Military Edition
Financial Readiness Depends on Stewardship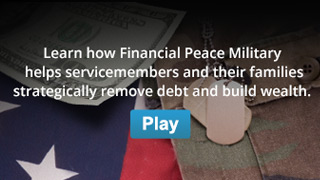 The fact is, if your people are struggling with their personal finances, they are not focused on the mission. As a leader, you see this problem all the time. Garnishments, loss of clearances, divorce, family violence and suicides are common responses to financial stress, and these negatively impact readiness. Statistically, 56% of enlisted military personnel report difficulty with family finances. Facing this issue head-on not only saves you wasted time and money, it also improves your unit readiness and morale. If you are committed to the welfare, growth and wholeness of your service members, Financial Peace Military Edition (FPM) is for you.
Financial Peace Military Edition is an intense stewardship training course that empowers service members to take responsibility, strategically remove debt and build wealth.
How does it work?
This nine-lesson DVD course—taught by personal finance expert Dave Ramsey—covers everything from budgeting and paying off debt to retirement and charitable giving. This course includes a workbook designed specifically for service members, which features military-specific questions and statistics. More than 60,000 military families have already experienced the benefits of Financial Peace Military Edition.
Contact us to find out how to
get started
.